I'm already sick of this week, I definitely want a do over. First we got the news that David Bowie had returned home (I choose to believe this, it's better than thinking otherwise) and now we've woken up to a world without Alan Rickman.
Most American audiences were first introduced to Alan Rickman as Hans Gruber, Bruce Willis' dastardly yet incredibly charming enemy in Die Hard. Fun fact: the iconic scene where they run into each other and Gruber pretends to be American wasn't originally in the script; it was added after Rickman continually walked around set imitating an American accent. John McTiernan decided it was such a great accent he came up with a scene to use it in.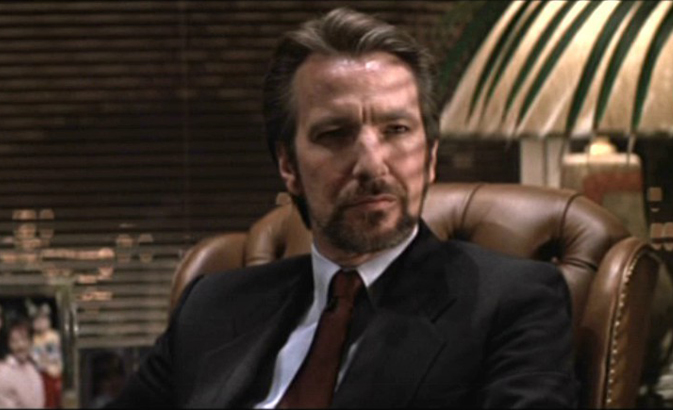 For a lot of people of my generation, though, our first experience with Alan Rickman was in the Harry Potter movies. Alan Rickman's portrayal of Severus Snape was perfect; I've never tried to picture anyone else in the role, because honestly no one else would have been able to play it. He was one of the few actors who knew the fate and details of his character before the books were finished, and after reading the seventh book I could see why. Watching every movie, you can see the way that he occasionally looks at Harry – angry that he looks like James, but protective of him because of his lasting love for Lily. The one movie change I was always okay with was the way they handled Snape's memories in the last movie. Watching him hold Lily and sob still makes me cry, and I've seen that movie more times than I can count.
Being only 11 at the time the Harry Potter movies started coming out, I experienced a maturing as I grew up watching the series. My fancies shifted from the two main characters, Harry and Ron, to Snape (never Cedric Diggory). I was incredibly interested in film even then, and so I started to look up every movie that Alan Rickman had been in, and watched as many as I could find at Blockbuster (blast from the past there).
That is how I found Sense and Sensibility, which changed my life. It introduced me to Jane Austen. It introduced me to the idea that you may not know what you really want, and sometimes getting what you want is not what you need. Alan Rickman's portrayal of Colonel Brandon was inspired. It was nuanced, it was subtle, it was romantic, it was one of those performances that can make you fall 100% in love with a fictional character.
He brought Colonel Brandon to life in a way the book just didn't for me. He made the audience realize that passion isn't always loud or over the top; sometimes passion is quiet and understated, but that doesn't make it any less real or deep. Reading the book, you feel like Marianne would have been happy with Willoughby; watching the movie you realize she's far better off with the soft, slow-burning passion of Colonel Brandon. For me, that was an awakening. I was quite similar to Marianne when I was young, and watching Alan Rickman as Colonel Brandon made me realize what I really wanted in my life and what kind of love I needed to find to be happy.
I was lucky enough when I studied abroad in Dublin to see Alan Rickman in Henrik Ibsen's John Gabriel Borkman onstage at the Abbey Theatre. Seeing him live…that voice. It's amazing in films, but in person it was indescribably beautiful. I never realized how much of a once-in-a-lifetime opportunity that would be, but I'm incredibly happy that I have that memory to cherish for the rest of my life.
This has been a rough week. I have some choice words for cancer, they maybe rhyme with duck and too, but I won't repeat them here. Instead, I'll just watch Sense and Sensibility, Love Actually, Dogma if I can find it on demand, and heck even Galaxy Quest today, and plan on binge watching Harry Potter all weekend. Maybe I'll do a tweet along, especially if I do it with wine (or try making my own butterbeer?)