This is a Comp Geek tradition, but it's my first year partaking! David and Holly have already done theirs, so now it's my turn. 2015 went by so fast that I had to Google which movies and video games came out this year because most of the ones I was thinking of came out last year (Interstellar, Dragon Age: Inquisition) and I was incredibly confused…It was a busy, hectic kind of year, but it definitely had some awesome geekness hiding in its folds
Movie – Best
I was conflicted on this one so I'm using a different standard than I usually do – which movie lived up to its hype the best? The answer for me is Avenger's: Age of Ultron. The new Marvel movies coming out have been amazing, and after the last few I was really looking forward to Age of Ultron, especially with the addition of Quiksilver and Scarlet Witch. It lived up to my expectations, and was all around a really enjoyable movie. Considering the advent of social media marketing and how movies are constantly marketed for a year or more ahead of their release, it's becoming more common to be let down a little once you finally see the finished product. Avengers seems to be able to resist that disappointment for the most part.
Movie – Worst
I cannot stress enough how disappointed I was by this movie. Spectre had all the makings of being an absolutely amazing Bond movie; a secret worldwide villain organization that's been running everything, finally tying in the last few movies and discovering they were all part of a larger NWO plot, etc. It should have been amazing. Instead, it came off as an Austin Powers movie that wants you to actually take it seriously. It felt forced. And don't even get me started on how hyped up we all got that Bond was finally going to have an age appropriate Bond girl (Monica Bellucci), only to find out she has all of 5 minutes of screen time for him to have sex with her and then try the rest of the movie to conquer a 25 year old blonde who tells him she won't fall for him…only to fall for him. Huge disappointment. Except, I guess, for the first 10 minutes, which are a tracking shot, no cuts. Having studied film I can't imagine how long that took to film with all those extras, and it is pulled off beautifully.
Litflix – Best
This isn't an exact book to mini-series translation for me, but when I saw that P.D. James' Death Comes to Pemberley was on Netflix, I had to watch it, even though I haven't read her (fan fiction) novel and was only familiar with the original source material, Pride and Prejudice. I must say, as a story that takes lots of liberty with characters that are universally loved by Austen fans, it is incredibly well done. The mini series is well acted, with several familiar faces of the BBC World (Jenna Coleman, to name one) and has definitely made me interested in reading the novel. Pride and Prejudice fans may be hesitant to watch it, but I found it does an interesting job of preserving the characters we love while also managing to place them in a fantastic "whodunnit" scenario.
TV Show – New
I know Holly already touched on this, and I wrote a whole article on it, but honestly I'm not sure I can say how much I loved Jessica Jones. Its handling of some deep, dark, disturbing content was so well done that I absolutely cannot wait to see what else Netflix has in store for these series (Daredevil and Luke Cage as well).
TV Show – Old
Once Upon a Time gets my vote for continuing/old TV show. Honestly, for about the last season and a half I'd gotten kind of bored of the story line, since it seemed to keep rehashing the same plot idea again and again. Season 5 was able to take that plot and play with it, in a way that completely refreshed it for me and hooked me back into being a huge fan of the show. I almost feel the need to apologize for ever doubting it.
Youtube Channel
I'm not as huge of a Youtube watcher as David and Holly, but I will say that Last Week Tonight with John Oliver wins my vote, mostly for the fact that they put up each of their large segments to be viewed after the show airs. I almost can't believe they do this since the show airs on HBO, but I love being able to catch up on the segments if I miss something awesome (televangelists, seen above) because I don't regularly watch the show (which I'm feeling more and more like I should).
Book/Comic/Graphic Novel
This one was hard for me; my whole year is a blur and I feel like I hardly read anything at all, and if I did it was something familiar and comforting, like rereading Harry Potter as escapism. I did do Litflix in reverse though, and was incredibly happy with the result. Practical Magic is a movie I've loved ever since it came out when I was a little girl, but I had never read the novel. I finally did this year, and while it is extremely different from the movie, I loved it all the same. In a way it was fantastic that I didn't read it until now, because it is much more of a book on love and familial relationships than it is a book on witches, and I appreciated it more with age.
Music
This has been a year of having Vance Joy and Lana Del Rey on repeat, occasionally mingled with the new Mumford and Sons. But far and away the best music of this year was the return of Rob Dougan. Having been silent on the music front for 13 years (except for a brief, almost entirely unnoticed return in 2010 for a short film for Solange Azagury-Partridge) it was easy to miss his return with five new orchestral pieces on his album, The 22nd Sunday in Ordinary Time. I have had a deep love affair with his music since I first heard Furious Angels when I was younger, and his new album did not disappoint. But of course now, I'm stuck wanting more and hoping I don't need to wait another 13 years for it.
Video Game – New (to me!)
I'm fudging this a bit, because while I played a lot of video games this year, I did a lot of revisiting old games and not so much playing anything new from this year. My pick for "new" is going to have to be Borderlands 1 & 2, if anything else because they finally let the husband and I sit and play something together other than Lego games (which I love, don't get me wrong, but after a while I wanted something new). I love that new technology lets us play with our friends while they're in their house or a few states away, sure, but sometimes I just want to play with the person sitting next to me. It is becoming increasingly difficult to find something to play splitscreen, and so my favorite this year is one that lets me do just that. A couple that Borderlands together, stays together.
Video Game – Old
I never had been able to play the first Portal game because when I got it, Steam basically fried my computer and never worked. My husband was gifted them both on his computer this year, and I watched him play them through and finally realized why they're so popular. We lucked out the same night we found L.A. Noire at a GameStop, because we also found Portal 2 on PS3. We breezed through the co-op together, and I was able to start the single player game on my own. Finally!
Tabletop Game
As much as I want to choose Cards Against Humanity, my personal favorite this year was one we actually played with Holly and David while visiting them, called Gloom. It was described to me as an Addams' family type game, and once I tried it I realized that's a very apt description. If you love all things morbid and gloomy (pun intended) you'll love Gloom. Basically, you have to tell a story in which you kill your family off in the most dramatic, morbid, extravagant way while drawing action cards, and if you do, you win. What's not to love?
Baby Related Item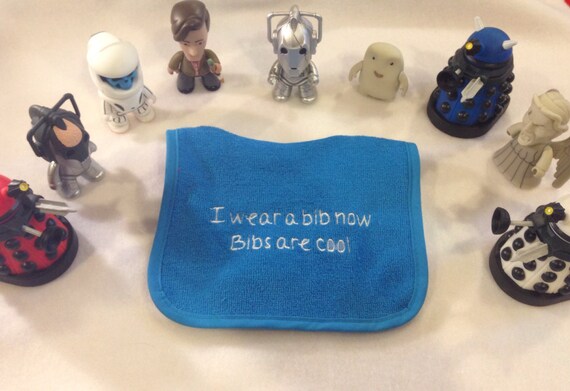 Okay, I know I'm only Geek Baby's aunt, but I still get to pick out cool baby stuff! From a spoiling aunt's perspective, my favorite item was, actually, a place to find cool items. Etsy. Especially for Geek Babies, Etsy is an awesome place to find one of a kind, or at least unique and customized, baby items. Example A would be the bib above, which I did indeed get for Geek Baby. Because bibs are cool.